Cthulhu Hack at UK Games Expo 17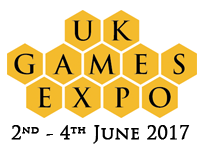 I will be attending UK Games Expo this year, as I have for the last half-a-dozen years, with the plan to run games and man the stalls for Just Crunch and All Rolled Up.
UK Games Expo runs for three days and explodes across both the NEC and local hotels, offering game-players of all interests the chance to see, play and buy games, old and new.
I have a stall of my own, where you will have the chance to pick up copies of all the books in The Cthulhu Hack range – which, I hope, will include some new material by the time June rolls around.
In addition, I will run two evening games, on Friday 2nd and Saturday 3rd June. I have made these intentionally generic in the RPG Event offerings over on the UK Games Expo web site. While I realised making these generic would not sell them, I didn't want to tie myself down to offering something with certainty.
I hope to have many options to offer in terms of adventure – and might even open it to the players on the night to choose what they'd like to play.
I recommend dropping over to the site to see the games running across the spectrum – and you can find The Cthulhu Hack games and many others in the Role Playing Games Event section.