The Outpost Generator release came from looking at maps of the settlements in the early period of the Australian colony while putting The Cthulhu Hack: Convicts and Cthulhu's adventure together. Most provided little more than a beach head for civilisation, as the British would have seen it, in a savage and challenging land. Meantime, the native people of this great land looked on – no doubt with a mixture of emotions and responses that would have grown more negative with time.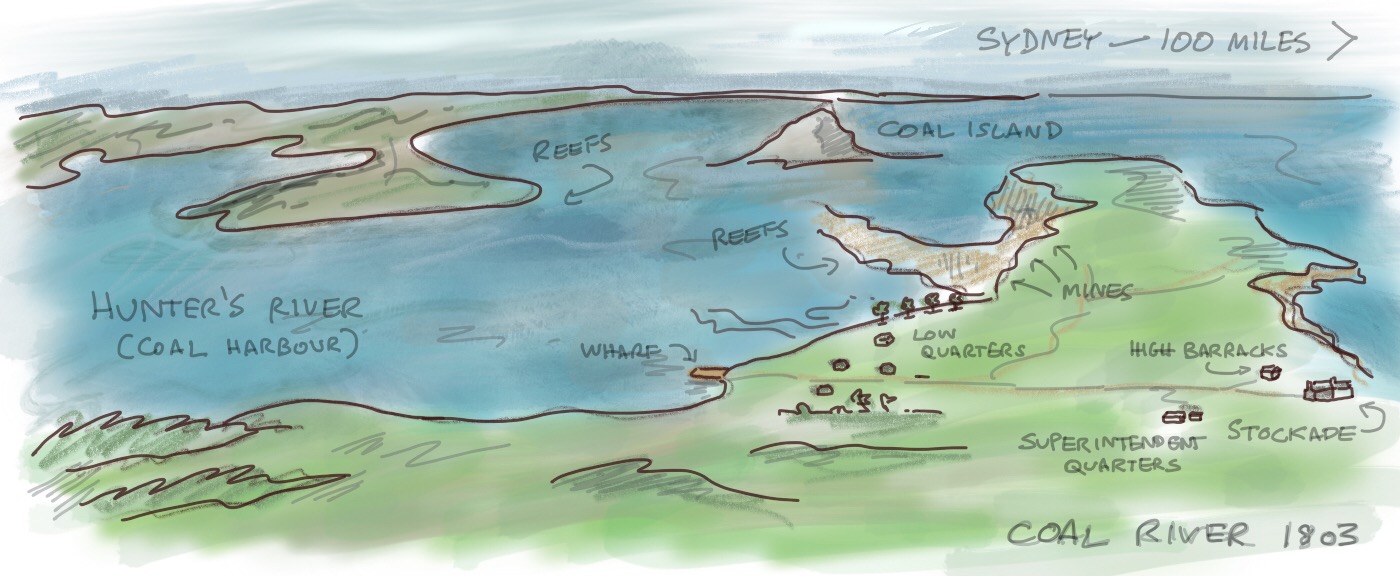 Many of the outposts provided shelter to little more than a handful of often ill-prepared settlers or dangerous convicts and their guards. Some 100+ miles north of the centre of civilisation, King's Town (variously Coal River, Newcastle and other names) housed a dozen convicts at first with half as many guards, the former held securely within a stockade when the Superintendent didn't have them working long and dangerous hours in the mines down on the beach. Just a scattering of buildings and a wharf – the latter rotting away so quickly almost nothing remained after just a couple of years.
The Outpost Generator draws on some measure of reality, mixed with finer details intended to offer small nudges to the story or the character of the settlement. You can drop a few dice on the table to see what matters in the settlement, where the core purpose or focus lies. Having an office in the settlement with a cartographer on-site will have a different slant on the next adventure than an officious superintendent or a chaplain.
Having put the one-page drop table together, I already have thoughts on a second page – so, if you've picked it up alegacy, later adidn't ions and tweaks will come to as updates.
When you print it out, either go big with A3 or print A4 set to borderless or Fit to Page. I have an A5 plastic box and the A4 Fit to Page, when you cut the table out, fits the box top. I even found that if you then pop dice in the box and close the lid, you can get a good shake and open it to a mystery settlement! (Without losing dice)