RPGGeek Review of The Cthulhu Hack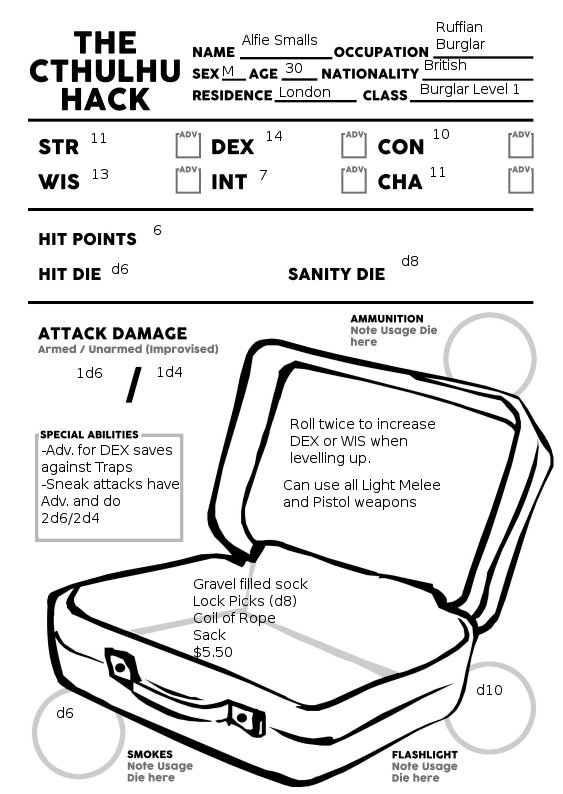 After the review of From Unformed Realms yesterday, I was delighted to see the time and effort taken to publish a very thorough review of The Cthulhu Hack yesterday, by Eric Dodd on RPGGeek. I think it's well worth reading – a thorough take worth the time to work through if you're teetering on the fence as to whether The Cthulhu Hack will work for you.
To paraphrase the review, I present the concluding paragraphs:
Combining The Black Hack's approach to old school fantasy with Lovecraft works rather well. Investigation resources and ammunition are tracked in a way that players will never be sure just when their luck will run out, but still gives them control over when to risk it. New players should be quickly able to understand the system and how it works, and should enjoy doing nearly all of the dice rolling in the game. If you're experienced in RPGs but unfamiliar with Cthulhu then I'd suggest Graham Walmsley's Stealing Cthulhu as inspiration.

Also, take a look for [Paul's] conversion of the free The Haunting adventure from the Chaosium Quick Start rules.

So I welcome the appearance of The Cthulhu Hack to the crowded Lovecraftian RPG mantlepiece. If you liked the simplicity of Cthulhu Dark but felt you needed a few more tools and levers to build a game around, without having to track 40 or 50 skills or detailed weapon statistics, then The Cthulhu Hack might be just what you're looking for. I've just ordered the Convicts and Cthulhu expansion, which will bring The Cthulhu Hack together with another new flavour in Cthulhu gaming.

There's plenty of room for fun, interesting, inspired takes on Cthulhu gaming like The Cthulhu Hack.
I appreciate the time taken – and also thoroughly recommend you pick up Graham's Stealing Cthulhu as a reference for extracting games from fiction. That and the upcoming The Haunter of the Dark!